Halong Bay is surrounded by the city of Ha Long, Cam Pha Town and Van Don Island District, in Quang Ninh Province. The Bay has been recognized by UNESCO as a World Natural Heritage site, and also been voted one of the New 7 Natural Wonders of the World.
Travelling to Ha Long, travelers can take a boat across the bay to view the many limestone and schist islands that are majestic appearance. Some highlights include Tuan Chau Island, Ti Top Island, Ngoc Vung Island, Dau Go Cave, Surprise Cave and Bai Tu Long Bay.
1.Best time to visit Halong Bay
Halong Bay is part of the Gulf of Tonkin – where the weather has four distinct seasons:
In winter (From November March) the weather is fairly cold.
In summer (From May- October), the weather is hot.
March to May is the best time to visit Halong followed by August to October. June and July are the peak tourist months and can be very crowded with price increases for many goods and services, so it's best to avoid at this time if possible.
These 2 months are also considered the rainy season with stormy weather.
2. Preparing luggage
Make sure you bring the following:
Sunscreen (30 SPF or higher)
Sunglasses
Broad-brimmed hat
3. Where to go
While travelling to Halong Bay, you can stay in hotels on the mainland and spend your time buying souvenirs, biking around city, visiting the historical and cultural sites and swimming on Bai Chay Beach. You should take a luxury cruise to enjoy the panorama of Halong Bay. There many beautiful islands, countless caves and the floating houses of the fishermen which give you those picture perfect moments.
Bai Tu Long Bay
In the last couple of years, Bai Tu Long Bay has become one of the hottest destinations for travelers to see the pristine beauty of nature. The bay is formed by thousands of limestone karsts and islets which rise out of the waters and white-sandy beaches. It is dotted with floating villages, unspoiled beaches, caves and grottoes and tiny coves where you can hide, unwind and be Robinson Crusoe for the day.
The best way to become immersed in this magical scenery is aboard Emperor Cruises – the first exclusive, all-inclusive cruise company in Vietnam. Live the life of royalty on a luxury cruise ship sailing through mysterious Bai Tu Long Bay, Travelers will be treated to the very best levels of personalized and attentive services.
Surprise Cave
Surprise Cave is located in the central area of Halong Bay on Bo Hon Island. This is a large cave and the most beautiful of the bay, and it is also home to many islands with irregular shaped stones not seen anywhere else in the region. The road to Surprise Cave is beautiful, and you can climb upwards through trees and foliage to see the blue skies above.
Ti Top Island
Located in the heart of Halong Bay, only 8 kilometers from the Southeast of Bai Chay Harbor, Ti Top Beach is clean and wild with beautiful white sands and blue sea. You should climb to the top of Ti Top to see the panorama of Halong Bay from here.
Vung Vieng Village
Vung Vieng is located in the heart of Bai Tu Long Bay, 24 km from the mainland. It is quiet, peaceful and charming, and will give you a unique insight into the culture of the local fishermen who make their living by fishing all year round.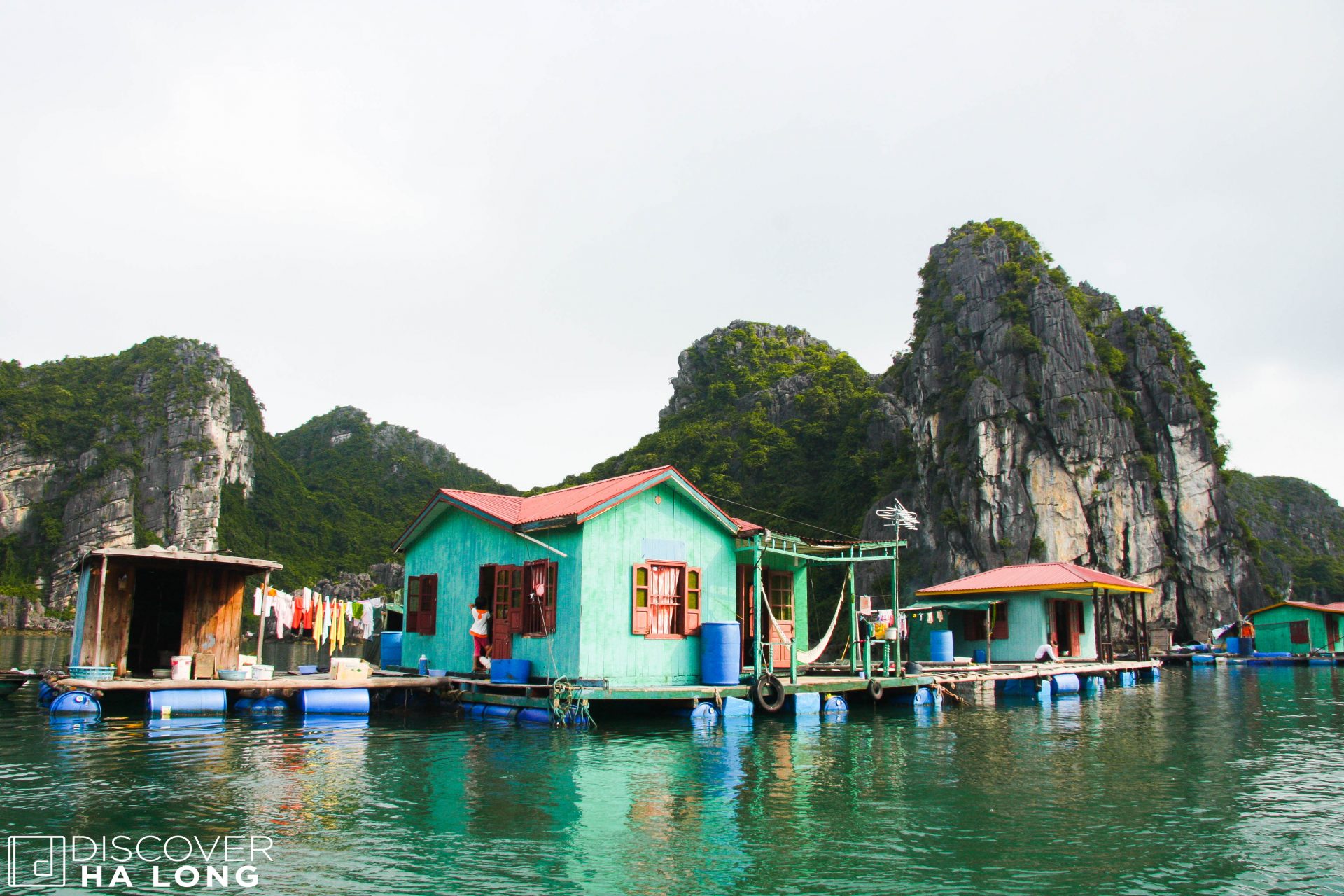 4. What to do (Activities)
Note : In Halong bay, you don't have to worry about sharks when swimming. However, you may run into some jellyfish whose stings can cause itching and irritation to the skin. These can be treated by rubbing a slice of lemon or some vinegar on the skin, reapplying if necessary. After 2 hours, the itching should disappear completely.
Kayaking
Kayaking is a "must-try" activity when you travel to Halong Bay. Halong Bay has thousands of islets and islands, clean blue water and calm waves, which are perfect for this activity.
Rock Climbing
Halong Bay area has more than 3000 limestone islands and caves that are perfect for adventure climbing. Rock climbing in the bay is in its infancy and underdeveloped, therefore, you should hire a guide to show you the ropes. The leading climbing company is Asia Outdoors (www.asiaoutdoors.com.vn), whose highly trained staff will arrange the logistics to get to and from the climbing site, obtain permits, and provide the necessary climbing equipment.
Swimming
A perfect way for travelers to experience the wild nature of Halong Bay is via swimming. The beaches of Halong Bay will surely make all guests feel relaxed and content. Remember that you should apply sunscreen before swimming.
Trekking and Cycling
Halong has a long coastline with many entertaining activities and tourist attractions on the mainland. A great idea is to trek and cycle around to take in the scenery and meet the people. You should rent a bike from your hotel, borrow a city map and get outside to explore the area yourself
View Halong Bay from helicopter
The best way to enjoy the panorama of Halong Bay is by scenic flight. You can see limestone karsts and caves from on high with Hai Au Aviation (www.seaplanes.vn). It offers 25-minute scenic flights over the bay by helicopter at a height of 300m above sea level. You can see all of the famous landscapes of Halong Bay such as Dau Go Cave (Hang Đầu Gỗ), Tuan Chau Island (Đảo Tuần Châu), to name but a few.
This may be one of the most expensive things to do in Halong Bay, but if you have the budget you should try this once in a lifetime experience.
Sleep on board a boat, and see the sunset on the deck
You should experience a sleeper cruise and watch the sunrise from deck. There are various types of cruiser available in Halong Bay, from luxury cruisers to diesel-powered junks. Of course, junks are less expensive that cruisers.
Enjoying Seafood
Halong is a beautiful and vast sea area with an abundance of all kinds of marine life. Drop into a local restaurant and sample some of the delicious fruits of the sea.
Tip:
Seafood is highly nutritious food but take care to enjoy it safely. Here are some tips to ensure you get the most of it:
You should avoid eating raw seafood such as shrimp, fish and squid because they can contain the vibrio parahaemolyticus bacteria. Never eat raw crab as inside unprocessed Ha Long crabs is a very dangerous parasitic bacteria named lung fluke. It can cause severe respiratory problems so make sure seafood is cooked for at least 20-30 minutes.
There is plenty of sushi and sashimi available so do enjoy it in moderation.
You should not drink too much beer while eating seafood, because it can increase the probability of gout or arthritis.
You should not eat seafood with food like cucumbers, water spinach, melons, pears or iced water
After a seafood meal, don't eat fruit or drink tea as they contains acids that may negatively affect the process of absorbing protein from seafood into your body. Tannin from fruits may react with calcium and proteins in seafood to overstimulate your digestive system which can lead to stomach ache
We wish you will a great trip in Halong.