Pham Ha takes his family on an adventurous trip to the wild and stunning beaches of Bai Tu Long Bay, on Quan Lan Island, in the Tonkin Gulf, to enjoy the start of the summer holidays.
It's essential to escape the heat and humidity of Hanoi and get to the beach during summer, but which of the northern beaches is best? Most foreigners tend to fly to Danang, but surely there are options in the north which are worth exploring? I'm forewarned by friends that beaches like Sam Son and Do Son are overcrowded so my wife and I decided to cast our eyes further afield.
One well-traveled associate of mine suggests Quan Lan Island. We consult the map. It's certainly further than all the other beach destinations in the north, and involves taking a boat through the Tonkin Gulf. But we are promised that this sparsely populated island his home to unspoiled beaches and lacks the major developments that are now dominating Vietnam's most popular coastal destinations on the mainland.
Thankfully, my kids are good travelers. We are used to going a little bit further off the beaten track to find the country's most enchanting and captivating locations, and frankly, I think it's worth the effort! On our last beach holiday, we stayed at Six Senses Con Dao (Poulo Condor) on the remote but breathtakingly beautiful Poulo Condor Island. So, this year we're happy to try and find somewhere that's equally exotic but a little closer to home. After some research, we decided to book everything online with Luxury Travel 
Our first choice is Minh Chau Resort on Minh Chau Island, but our hopes are dashed as the resort is fully booked through June – a sign that we're not the only ones searching for paradise beyond the horizon. Instead, we book Van Hai Resort on Bai Tu Long Bay, in the Tonkin Gulf in Northern Vietnam.
We depart Hanoi at 7am and arrive at the Cai Rong Port. After enjoying an early lunch at Vien Dong Restaurant, where the seafood is fresh and cheap, we board a speedboat bound for Quan Lan Island. Although Bai Tu Long Bay is less frequented, its beauty matches that of the famous Ha Long Bay. We admire the limestone islands jutting out from the water and visit hidden lagoons and beaches. Legend has it that long ago, when Vietnam was attacked by the Chinese, a dragon and its children appeared and helped the Vietnamese fight against the Chinese invaders. Following the battle, the dragon decided to remain to protect the Vietnamese people, and so she descended into 'Ha Long Bay', while her children went to 'Bai Tu Long Bay', which means 'Children of Dragon Bay.'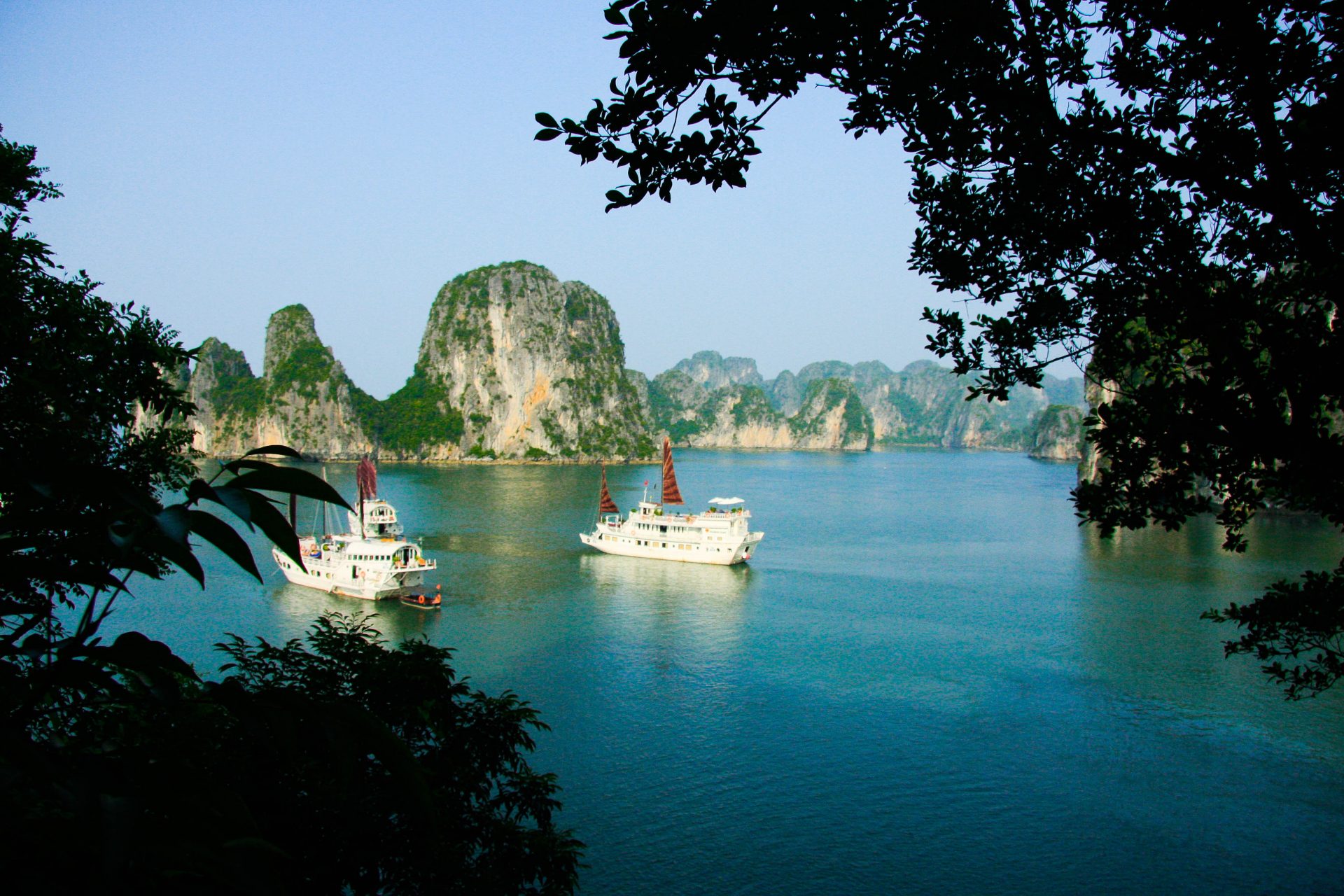 The best way to appreciate this magical scene is from a boat, cruising between the karst cliffs that loom like castles straight out of a fairytale, complete with rocky spires and hidden caves. Still used for fishing, whole families live here on floating villages. After an hour traveling through the beautiful bay, we arrive on the island and take a local tuk tuk-style cab to Van Hai Resort at Son Hao Beach.
The population in the area is small, and they earn their living from fishing and agriculture. Our second choice of accommodation seems to be the right one. There are three beaches: Son Hao, Minh Chau and Viet My.
Son Hao is probably the best beach, with 2km of clean, white sand, great views and nice waves. All the houses are on stilts or in villa style, with some of the villas facing the sea. The island has no electricity, and so, from 6pm to 6am you will enjoy true calm and serenity! From here, we can visit other beaches and temples around the island, but we are here to rest, so we are happy flop around the beach all day, swimming, reading novels and enjoying seafood feasts.
After three nights, we are sad to leave, yet this short but truly inspirational trip has encouraged us to explore more "hidden destinations" in northern Vietnam.
For our next trip, we plan to stay on the nearby Co To Island, also in Quang Ninh Province.
Pham Ha