Located in the center of Halong Bay, Ho Dong Tien (Fairy Lake Cave) has not only stunning scenery  but also magical values of geology, geomorphology and formation history of Halong Bay. This is one of the most beautiful cave and the destination of many researchers.
Ho Dong Tien (Fairy Lake Cave) has typical structure of veranda caves, the bottom of the cave is not much higher from sea surface, even the entrance of the cave is also flooded, people have to rehandle the it to be able to come in. The cave is quite dark and wet inside and guests can only access this cave by kayaking or sitting on a small boat of local people.
There are many legends about the lake and the appearances of small animals in the cave. According to the local people, when the cave was first discovered, there are magical lights in the second chamber and they believe that fairies came here for bathing and sleeping right before humans found the cave. And the small animals were the fairies' pets, which were brought inside by the fairies themselves. Since humans started coming in, the fairies disappeared and only come back when nobody is inside.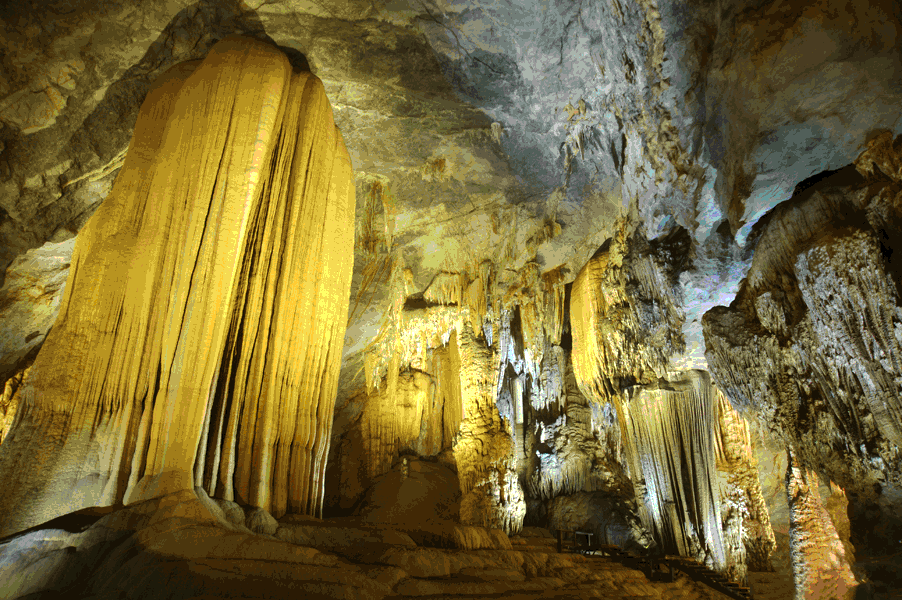 Photo: halongbay_info
Different from all other caves in Halong Bay, Ho Dong Tien still remains relic of many limestone lofts hanging on the wall of the cave. . According to scientists, these are relics of relatively solid formations of CaCO3 that have been eroded by flows of groundwater having occurred over a period of thousands of years.
From outside, Ho Dong Tien seems to be not so special with a third of the entrance dipped in sea water. It has 3 chambers, every chamber is also really spacious and gorgeous with various stalactites beautifully sparkling hung down from the ceiling. The middle of the first chamber is highlighted by many stalagmites rising from the ground and linking the ground to the ceiling. However, the entrance of chamber is too narrow, which only allows one person per passing.
From the second chamber of the cave has two doors out to a lake and is surrounded by limestone mountains. People call these type of lakes are "áng" – a karst funnel with flooded bottom. . It is a special ecological environment and in the "áng" which may include many endemicity species.
Ho Dong Tien has not only the scientific value of geology and geomorphology, biodiversity but also unique beauty. It attract curiosity of visitors who want to discover magical beauty of creator.
The Cruises in Halong offers cruising itineraries for visitors to discover Ho Dong Tien. For more information, please go to www.luxurytravelvietnam.com.