Located within Bai Tu Long Bay and near the UNESCO-recognised Ha Long Bay in the northern province of Quang Ninh, Bai Tu Long National Park is a natural treasure for Vietnam.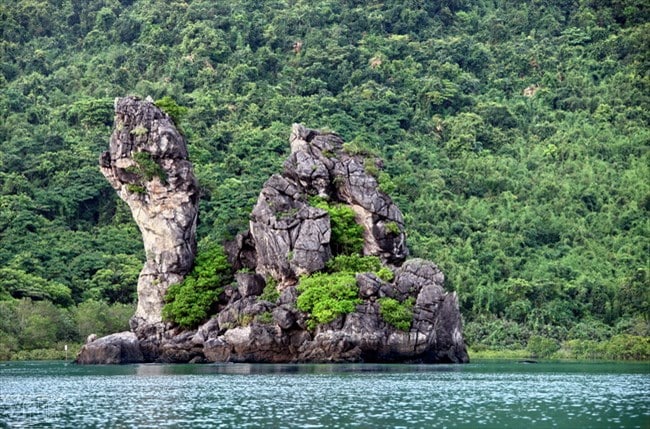 Image: Vietnamplus
Formed on June 1, 2016, the park covers 15,783 hectares, of which forests and forest land make up 6,125 ha on more than 40 islands, and water surface accounts for 9,650 ha.
The park is home to 1,909 species of fauna and flora, including 72 types of animals and 30 kinds of plants listed in Vietnam's Red Book of endangered species.
Earth and stone islands like Ba Mun, Tra Ngo Lon, Tra Ngo Nho, Sau Nam, Sau Dong, Dong Ma, Hon Chinh, Lo Ho, Mang Ha Nam, Mang Ha Bac, Di To, Chay Chay, Da Ay and Soi Nhu are scattered across the park.
Limestone mountains encompass vast valleys, creating diverse living conditions for different types of fauna and flora.
The most noteworthy is Tra Ngo Lon, the largest island in the Bai Tu Long National Park. The island has a special geological structure with earth mountains in its northern part and limestone mountains with caves in the south.
Scientists said mangrove forests in Tra Ngo Lon island and the park are not consolidated by alluvium like in the Red River Delta. Instead, local plants live on mud and soil from mountains. It takes thousands of years to form these mangrove forests.
At the core of the Bai Tu Long National Park is the Ba Mun island cluster. Ba Mun island sits on an area of nearly 2,000 sq.m with over 80 species of diverse and rare flora.
Forests in Ba Mun island are home to many scarce species of animals like python reticulatus, pardofelis temminckii, macaca multta and pholidota. Therefore, the island is considered the largest wild animal reserve in Vietnam's northeast.
The northeastern region's largest wildlife rescue centre was based on the island in 2010. The centre nurtures various species of animals rescued by forest rangers of the Bai Tu Long National Park from smugglers.
Besides the extremely diverse biological environment, the park also has archaeological values, with evidence of ancient Viet people residing here 14,000 years ago.
The park holds potential for tourism development, particularly ecological tourism. The management board of the park has connected tourism units both at home and abroad to organise tours.
Pham Ha