Grilled squid (Chả Mực) of Quang Ninh sea area is a specialty and have to taste original grilled squid of Halong, you just feel the greatest taste of this dish. Squid is used to make the dish is fresh squid that just caught up from the sea, so squid meat is very aromatic and flavor. Most of ingredients to make fried squid are caught in the sea area of Ha Long and just here this dish tastes very own not with elsewhere.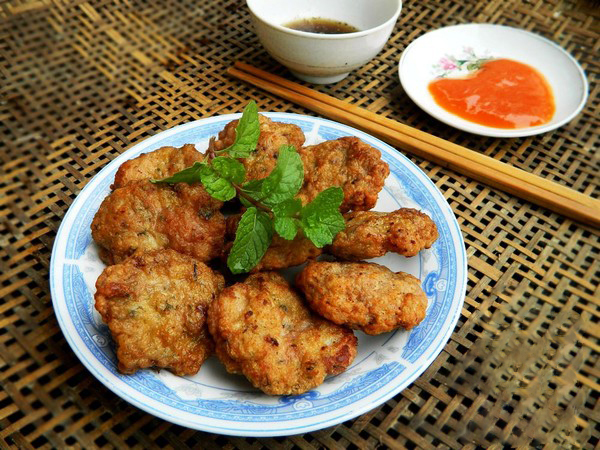 Made from a mixture of squid, dill and some spices. Firstly, squid have to be clean and dry, then it is sliced into pieces mix some pork fat, dill, some spices such as dry onion, garlic, fish sauce and pepper. This mixture is put piece into mortars alternately. The pounding is done by hand to ensure making the grilled squid have the most flavor. Finally, all molded into pieces like a biscuit size and fried in a pan.

Grilled squid of Halong is one of 10 famous specialty dishes of Vietnam, that was officially recognized by the Asian Record in 2013 by the criteria "The unique dishes only in Vietnam and compares with the cuisine of other countries throughout Asia"
Quality of it (crispy and chewy) is expressed by special processing techniques of maker through how pounding squid, how mix spices, how fried with oil and fire.
The most delicious fried squid is eaten with sticky rice or wet cake. The scent of sticky rice and wet cake scented with the smell of grilled squid is both greasy and sweet make you hard to resist the appeal of this dish.