Hai Phong is an important seaport city and industrial center – the largest seaport in North Vietnam. Hai Phong is also nicknamed The Flamboyant City because of the many red phoenix flowers planted throughout. This is a major tourist center with international standard beaches, resorts and entertainment centers.
1. Cat Ba Island
Cat Ba Archipelago consists of 367 islands, including Cat Ba Island in the south of Halong Bay, about 30 km and from Halong City. Cat Ba Island has become a very popular tourism destination in Vietnam due to its scenery and numerous nature-based activities. Travelers can kayak or take boat cruises to discover and enjoy the surreal beauty of Halong Bay and the Cat Ba Archipelago. In addition, there are a myriad of adventure activities such as hiking through the Cat Ba National Park, mountain biking around the island, exploring the countless caves or even rock climbing on the limestone karsts.
Cat Ba Island has a cool and fresh climate, making it perfect for a trip all-year round. The best time during to travel here is between  October and November. Normally, Vietnamese travelers will go mainly into the summer months, while international travelers are present from November to March.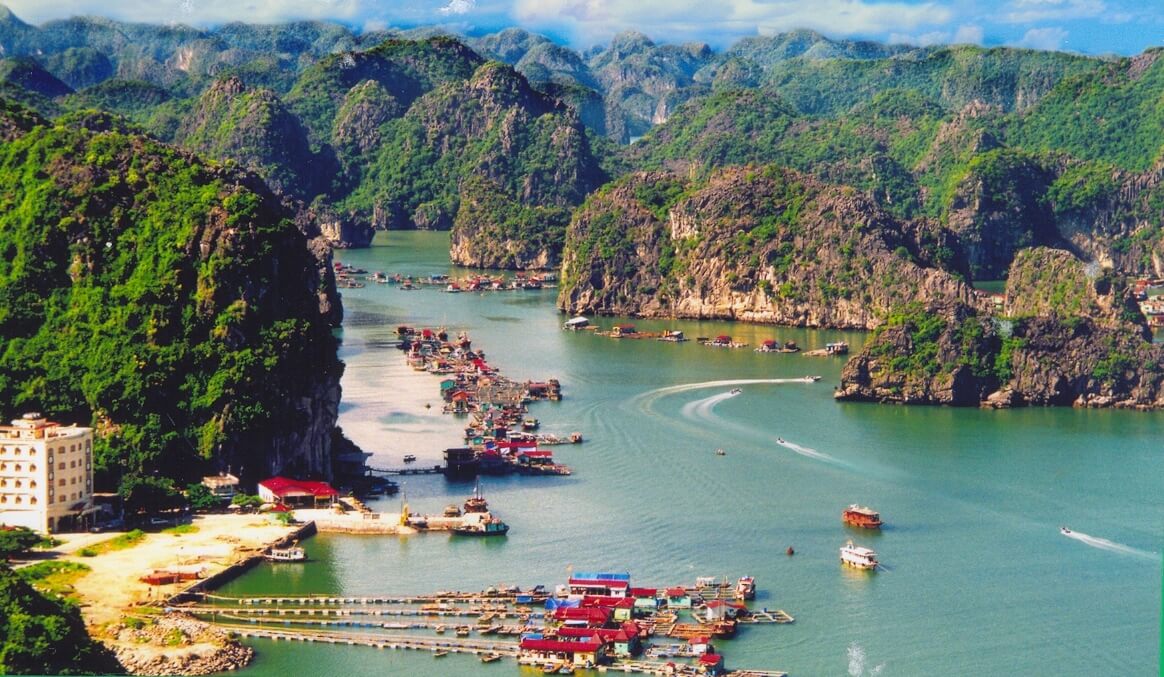 Opening Hours: All year round.
Location: About 50km to the east of Hai Phong
3. Do Son Beach
Do Son is a small peninsula formed by the stretch of the Dragon Mountain with many hills ranging from 25m to 130m high. Do Son adjoins Kien Thuy District in the west and northwest, and The East Sea.
Do Son has a pretty beach, with mountains on one side, and thousands of casuarina-tree, pines-tree, and palm trees on the other. Combined with the tropical, clear blue water of the coast, it is a truly impressive and charming landscape. Do Son Beach is divided into three zones and they are connected by an asphalt road that runs along the shoreline.
Opening Hours: All year round
Location: In Do Son District, 22km from Hai Phong City
3. Bao Dai Villa
Bao Dai Villa was the summer palace of Bao Dai – the last Emperor of Vietnam. It is located on Vung Hill, and was originally built in 1928 by the French Governor-General of Indochina, who later in 1949 offered it to Emperor Bao Dai. The villa has a King's Room, Queen's Room and smaller rooms for the  Princess and Prince. With beautiful natural scenery of mountains and sea, it makes visitors feel comfortable, and is a real step into the opulence of times gone past.
The emperor frequently used the villa when he visited this part of Vietnam, especially during summer time. Nowadays the villa is a hotel and guests can enjoy not only the same beautiful views of Do Son Peninsula as the last emperor but also admire the vintage royal family photos as well in their living quarters. One of its main attractions is Bao Dai's throne.
Opening Hours: All year round
Location: On Vung Hill in Do Son Zone II
4. Hai Phong Opera House
Hai Phong Opera House is located in the center of the city square, and hosts all major cultural and political activities in Hai Phong City.
The two-story building was constructed in 1904 with a French design, and the building materials were brought from France and constructed by Vietnamese workers under the direction of French architects. The interior is splendid and is able to seat 400 people while outside the building is more of a modern design with a big square, a lovely flower garden, water fountains and twinkling lights.
Opening Hours: The Opera House doesn't announce its regular opening hours. It might be wise to ask your tour guide or locals to confirm the opening hours before visiting
Location: Hoang Van Thu Ward, Hong Bang District, Hai Phong City.
5. Hai Phong Museum
The museum was built in 1919 and designed in Gothic architecture. The Hai Phong Museum was officially opened on December 20, 1959. It keeps 30,000 documents, and exhibits that are displayed in 15 rooms, with an area of over 120 m2.
The items displayed might not be huge in terms of variety but it offers enough inside knowledge about Hai Phong in general and explains the city's role in ancient times, why it is an important seaport as well as its role in recent wars.
Opening Hours: Tue and Thu from 08:00 – 10:30 and Wed and Sun from 19:30 – 21:30
Location: 55 Dien Bien Phu, Minh Khai Ward, Hong Bang District, Hai Phong City.